This article was originally published in 2017, receiving over 10,000 visitors in the first week thanks to Reddit and Hacker News press. Now, four years later (2021), affiliate SEO is still a hugely popular way of making money online (though certainly more competitive).
The practice has also been made infinitely more credible, with the likes of the New York Times purchasing Wirecutter for $30m to add to their affiliate revenue streams.
While the specific case study screenshots (below) are now dated, the Gaps in the market are still viable today — especially our focus on sentiment, which we're starting to see in more and more projects.
Finally, we accept that this 'dated screenshots' warning may make you less likely to read this specific article, but it hopefully shows our focus on Gaps is to show you what's working, right now. We constantly update our playbooks (see /latest for our daily changes) to help with your digital empire efforts.
Last year I wrote an article about how four numbers could send you millions of visitors from Google.
Despite the ambitious headline, it wasn't clickbait.
The tactic I shared genuinely sent me tens of thousands of extra search visitors, was used by some to build $10,000/m online businesses (from scratch) and was shared on social media more than 4,000 times.
While what I'm about to share is more of a marketing tactic than a specific niche, it will help you find thousands of potential industries you can make money in this year.
I'll start by covering the main points of the original article (with updated content and images) and then cover actual successful stories that people have had with this, which I wasn't able to share before.
It all started with a business book…
Or rather, the search for a business book.
If you follow me on Twitter or Facebook then you'll know that I frequently set new disciplines for myself which I hope to turn into habits.
One discipline was becoming an early-riser.
Another was quitting alcohol.
And another, the most recent, was dedicating more time to reading and trying to finish two books per week.
Since I was fresh out of books on my Kindle – I had just finished reading The 10X Rule by Grant Cardone for the second time – I decided to search for some recommendations.
I'm not a fan of fiction books, so I headed on over to Google and typed in "best business books". The results, from the likes of Business Insider and an array of personal development blogs, sadly suggested books I had read a year or two prior.
I then naturally changed my search query to "best business books of 2016" to get some more recent suggestions.
I started looking through the new recommendations and then suddenly had to stop.
"How many people do what I just did?", I thought.
How many times in the past year have I searched for something with the numbers 2016 on the end to make sure I get the latest results.
I know I've searched for,
"macbook pro alternative 2016" this year.
"Science behind meditation 2016".
"top goal scorers 2016".
And on the list goes.
As you probably see where I'm going with this, we've just entered 2017 and those hundreds of millions of search queries are going to change.
Could you capitalise on what is about to happen? Do you instantly see the potential here? Is there any potential? Let's find out…
Interesting idea, but do the numbers back it up?
I know there are billions of search queries entered into Google every single day, but maybe I'm just one of those weird few – an oddball – that likes to prefix his search terms with 2016 to get the latest results.
To test my oddball hypothesis, we can head to Google Trends, which is described perfectly by its name.
Since my hunt for good business books was the inspiration for this idea, let's first look at the Google Trends chart for "best business books 2016" and "business books 2016".
Both terms have spikes at the start of the year, which only keep increasing as time goes on; reaching a peak at years end.
This makes a lot of sense since you can't really judge the best books until the year is coming to a close. That being said, the spike at the start of the year still suggests a lot of potential.
What if I check "best movies 2016" and "best movie 2016" together?
Again their search volume grows steadily throughout the year with a huge spike in December.
Continuing to look at other angles, another query, "best album 2016", has a very interesting spike at the start of February and never gets higher than that.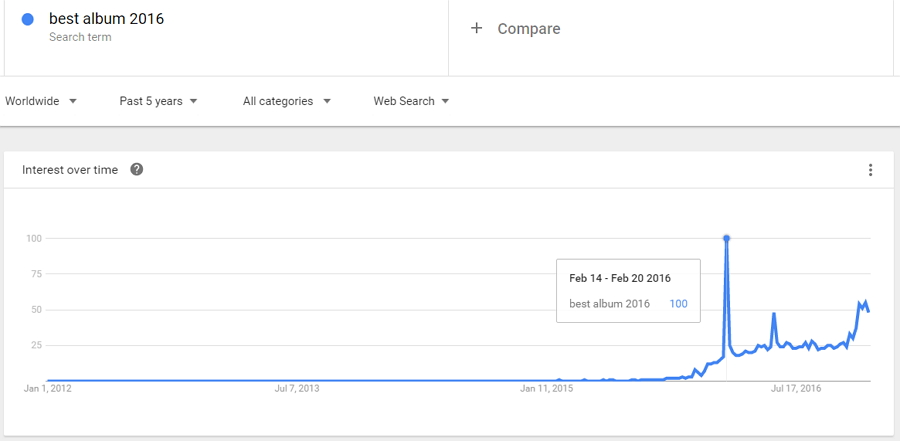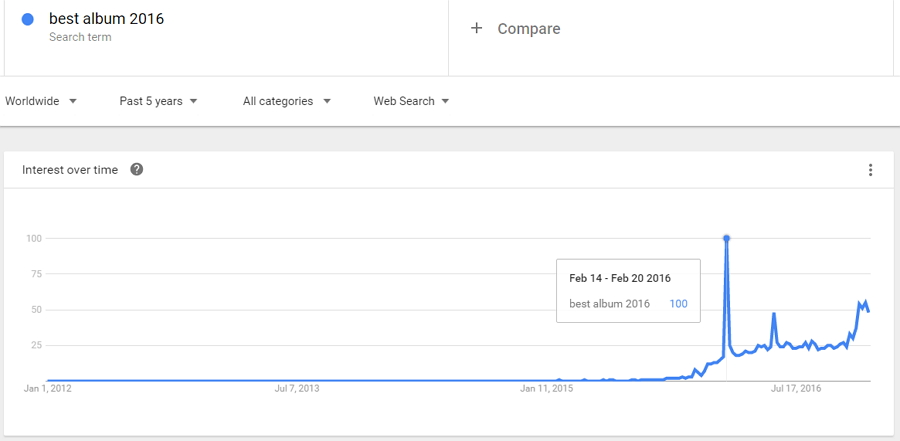 The reason I wanted to show this example is because you don't have to wait until the end of 2017 to benefit from ranking for 2017-related search terms.
I'll get to queries with a lot less competition in a moment, but – coinciding with the Grammys – even search terms like 'best album 2016' can hit their peak at the beginning of the year.
It's interesting to note that the Google keyword planner doesn't actually seem to match Google Trends at all, with a higher figure in November than February and a steady climb across the year.
I am honestly not entirely sure why this is – some forum threads suggest they use similar datasets – but Trends may be a 'normalisation' of the data whereas the Keyword Planner is focused on more accurate numbers.
Last but not least, let's throw one more generic niche into the ring with "Video games 2016" and "best games 2016" side-by-side.
Video games 2016 doesn't seem to get too much love but best games 2016 gets a huge spike early on with an almost vertical line, suggesting that this term is hot any time of the year.
No matter the industry, the results are clear: People love adding '2016' to their search queries to make sure they're getting the most up to date search results.
Moving from theory to results (the fun part)
When I wrote about this marketing opportunity last year, it was based on a strategy that had worked for me back in 2010.
The terms that sent one of my websites the most traffic back in 2010, alongside how many visitors they sent, were:
Vancouver 2010: 41,270 visitors
Super bowl 2010: 32,836 visitors
Olympics 2010: 6,216 visitors
Valentines day ideas: 5,688 visitors
I didn't bold it, but hopefully you see that the year in those search queries played a big part in why I received so much traffic. The writers for the site were covering these topics frequently, putting 2010 in the headlines, and I received a lot of traffic in return.
But that was six years ago, and six years is a very long time on the internet.
On the same website of mine where I wrote about this tactic initially – ViperChill – I also wrote an article at the start of 2016 with 2016 in the headline, specifically trying to get traffic because of its inclusion.
It worked.
I received tens of thousands of visitors from Google to that article alone.
And I hadn't tried to pick an easy niche, either. I was specifically looking to rank for "make money online 2016" where there are a lot of competitors with authority like Inc.com, Forbes.com and Entrepreneur.com.
Below you can see some of the specific queries which sent traffic to the page.
I had to put the "1-5% of actual traffic" text on the graphic for those just skimming the article and thinking "those numbers are low". There are three reasons they are lower than what I'm claiming them to be.
1) I only put Google Analytics on my site on the 25th of September – I was using Clicky analytics before that – which excludes 75% of traffic for the year.
2) My rankings were higher when the article was published but slowly dropped as more people wrote about the topic, making traffic from Google later in the year lower than average.
3) Most importantly, Google Analytics shows "Not provided" for 90-95% of search traffic, so you can't see most of the terms driving people to your website.
We can get a better idea of the figures by looking at search traffic to the page in general, but again keep in mind that this is only data from a quarter of the year.
In other words, 61% of the 13,500 people who visited the article in the last quarter of 2016 arrived via Google.
If I am very pessimistic and say that the traffic was no higher at the start of the year than at the end (I ranked #1 for a long time but dropped off slowly) then that's 33,160 people who landed on a single article of mine, primarily because it had 2016 in the headline.
This is just for one article. What if you did this for an entire website?
Eight "2016" Articles. Brand new website. $4,687 in month four
In April of 2016, Luqman Khan launched the website 10beasts.com.
His goal was simply create a 'list website' featuring the best products to purchase in 2016 in different categories.
Just four months later, his site was already number 1 in Google for some of the hottest product-related terms of the year, as shown below.
In the first three months of the site, Luqman made $223.30 as an Amazon affiliate which was generated from just 905 people finding his website via Google.
Here are the exact numbers:
April: $16.5 from 29 unique Visitors
May: $34 from 197 unique Visitors
June: $170 from 679 unique Visitors
To put it another way, he made $0.56 per visitor in April, $0.17 per visitor in May and $0.25 per visitor in June.
In July, things really started to take off.
Here is his search traffic via Google Analytics.


Here's the traffic he sent to Amazon and his earnings for the same period.
That's $100,000 in sales he sent Amazon, for $4,687 in commissions.
It's interesting to see how his traffic stats almost perfectly align to his Amazon affiliate account, showing how 'buyer-intent' the traffic is that he's receiving.
Since all of his sales were thanks to Google traffic and specifically people searching for something with '2016' in their query, Luqman had to put the work in to get Google to notice his site.
He says,
I wasn't just praying for higher rankings, I was working my butt off. I was doing email outreach and was trying to build quality backlinks as much as possible in those 3 months.
I love these type of success stories as they show you really don't need a huge marketing budget or a team of developers to make money online. With a bit of grit and perseverance, there's a lot of money to be made.
Most people would be more than happy making $4,500 just four months into a new online venture, but that was only the beginning.
5 months later, the site generated $80,000 profit in December alone
In November of 2016, Luqman's 10 beasts website generated more than $40,000.
In December, where people are more likely to be shopping for products, Luqman told me via email that the site generated more than $80,000 in commissions.
The bulk of his traffic from search was sent to three main pages which covered the best wireless routers, the best 3d pens and the best electric shavers to buy in 2016.
It's interesting to see that his title tags (part of the title you see in Google search results) had been changed to also include months, rather than just the year. So each month he was changing these to (Nov), (Dec), etc.
Although he did start experimenting with other revenue sources, Amazon still provided the bulk of his earnings.
In November alone he earned $35,631 from Amazon and $3,520 from a program called LixPen. I hadn't heard of LixPen before, but it turns out they sell 3D pens so Luqman had started going direct to product creators and becoming an affiliate for them.
His site is now entirely focused towards ranking for 2017-related terms and as he told me, he's now trying to turn the website into a real brand.
Congratulations for taking an idea and putting it into practice, Luqman!
We're not done just yet.
There's a bigger fish in the 2017 pond.
The Link Network That Will Dominate Google in 2017
To regular readers, it's no secret that I'm disappointed as to how well BestProducts.com are ranking in Google.
Primarily because the main reason they do so is thanks to sitewide footer links on Esquire, Cosmopolitan and Elle.com which are all owned by their parent company, Hearst Media. In other words, they use their current "authority" with Google to help their little, newer brands rank well too.
Linking to their own sites is fine, but they do it in a really sneaky way.
It's ironic that Google will go through black hat forums looking for sites and networks to penalise but totally ignore the big fish right under their nose.
I guess Hearst spend enough money on Google AdWords.
My mini-rant out of the way, there is something to learn from BestProducts.com: They absolutely dominated Google for 2016-related keyphrases, and they'll do the same again in 2017.
Let's look at the meteoric growth, first of all.
They've tripled their traffic from 2.5 million visitors to 7.5 million visitors in just five months.
When you consider that BestProducts wasn't even online at the start of 2016 that chart becomes a little more mind-blowing.
With 90% (!) of their traffic coming from search, just take a look at the huge search volumes of these keyphrases and how well they're ranking for them.
These terms in this screenshot alone, where I am excluding hundreds of keyphrases with 2016 in them, could potentially send 429,400 visitors to the site in a single month.
When you consider Luqman was making an average of $0.30 per visitor, that's an estimated income of $143,000 for just the terms above, and just for one month.
Keeping in mind that they won't have 100% of people searching for something landing on their site – even if they're ranked first – it's still clear to see why Hearst Media are willing to use risky tactics to get to the top of Google.
There's an incredible amount of money to be made.
Finding the Keywords That Will Make You $
If you see the huge potential available to you in 2017 and want to profit from 2017-related terms, let's take this further.
The examples above were simply that. Examples.
I don't expect to rank for 'best album 2016', even if I have an exact-match domain name. I expect Billboard.com and MTV and whoever else will dominate those search rankings as soon as they write a single article on the topic, regardless of how many backlinks they receive.
I also don't expect to rank for 'top goalscorer of 2016' since FIFA, the BBC and the EPL website will probably be up there. Alongside everyone else who is featured in Google News or creating content for properties like YouTube.
That being said, I wouldn't actually want to rank for those terms.
There's no point in potentially getting millions of visitors to your site (capitalising on a lot of angles), if you aren't going to make any money.
Am I really going to sell match tickets or club merchandise to someone checking whether Lionel Messi has scored more than Cristiano Ronaldo this season? It's possible, but unlikely.
We're getting to the point now where you need to take action.
If you want to make money with this method, you have to take the time to do proper keyword research. You can't write a single blog post with "2017" in the headline and expect to suddenly get thousands of visitors to your site.
The more obvious a keyphrase is, the more likely other people are going to be targeting it.
The whole premise behind Gaps is that I want to help create more online success stories, so please be willing to put in some time here. Deal?
Let's go and find those keywords with both traffic and income potential.
Source #1: Google & Google Trends Suggestion Boxes
When I type 2016 into Google Trends, Google are kind enough to suggest some terms that I may be looking for. They do the same for regular Google queries as well, as shown below.
Just finding inspiration from "2016 top" will get you the same results as everyone else reading this article – at least for English speaking audiences – so try adding some other words into the mix to get some other angles to target. Some potential queries that come to mind include:
top
greatest
fastest
newest
oldest
strangest
cheapest
most expensive
easiest
unbelievable
weirdest
best
shortest
tallest
biggest
smallest
There are a lot more I can add to this list but you get the idea. When I did this same exercise last year I quickly found four industries to potentially capitalise on.
While there are dozens of ways to make money with this type of traffic, a simple rule of thumb is to find keyphrases related to things that you can buy on Amazon.com. If it's available on Amazon, you can link to it as an affiliate, and make money if someone makes a purchase.
Keep this in mind for the following keyword sources.
Source #2: Google Trends Related Queries
Not only will Google Trends give you an idea of how popular search terms are over a certain time period, it'll also give you related search terms you can use to narrow down your targeting.
For instance, if I type in "best games 2016" I see the following related queries:
I now have a few new industries and angles to think of such as "best android games 2017", "best PC games 2017" and so on.
For another example, let's say I type in "best album 2016", I see the related queries are:
best songs 2016
album releases 2016
2016 grammy winners
You can guarantee these are all going to be searched for in 2017 as well.
Take your list of terms from step one and run them all through Google Trends to see if there are more varied terms that pop-out which aren't so obvious (and others wouldn't find so easily).
Source #3: The Google Keyword Planner
Although the Google Keyword Planner is undoubtedly the most accurate keyword tool on the planet (since the data comes from the source), the reason I've put it third in my list is because it's a little…obvious. Anyone who knows anything about SEO is going to head here first and put 2017 in the search box.
Just because it's popular though, that doesn't make it bad. Many thousands of people will read this article, see the potential with this idea, and then do absolutely nothing with the information here.
Once you open the tool, remember not to search for 2017. The planner is delayed by a few months so there aren't going to be many results for 2017-related terms.
Start with 2016, and then "be creative".
By default, you're just going to see generic results like "movies in 2016" and "star trek 3 2016" which get searched a lot, but aren't likely to make you any money (unless you happen to sell Star Trek memorabilia).
Start typing in terms that may have came to mind from previous research or what you can see other websites (like BestProducts) already ranking well for.
One term that sent them a lot of traffic was 'best router 2016'.
If I type 2016 router into the Keyword Planner I get back results like:
best wifi router
wireless router reviews
best wireless router
They don't have 2016 in the query, but now you know people are going to be adding 2017 to those search terms, so if it's a niche you're interested in, add them to your list.
Source #4: Reverse-engineer popular websites
We've established that a good way to consider if a niche is valuable is to find keyphrases related to products that would be sold on Amazon.
To take that a step further, you can start looking at the search traffic of sites that talk about things that are for sale on Amazon.
Since Best Products and 10 Beasts both cover tech products, let's use Engadget – a large tech blog – for this example.
If I put Engadget into SimilarWeb, I can see that the top five search terms estimated to be sending them traffic are:
engadget
ポケモンgo
瘾科技
Google home
watch dogs 2
The Chinese (Japanese?) characters were not a typo. I guess the second one is related to Pokémon Go. You can uncover 8,198 more terms via SimilarWeb but that does require a premium account.
We did get one interesting product we could promote though: Google Home.
Similar to Amazon Echo, it's going to be a hot product in 2017 and people will definitely be searching "Google home 2017" and "Google home review 2017".
Another free keyword tool we can use is Amazon's own Alexa.com. Putting in Engadget again, we get the following terms:
Engadget
google docs
spotify
wirecutter
google pixel
You aren't going to get the best results from free tools, but once again we find a product that people will be searching for in 2017: Google Pixel.
Just like with Google Home, they'll be searching for things like "Google pixel review 2017" which you could rank for and then promote as an affiliate.
Again, these free options aren't the best, but they can give you some insights if you use them on enough sites (you don't just have to check Engadget).
If you do have a bit of a budget and you're looking to do more reverse engineering, I can't recommend Ahrefs highly enough. In the past I would have recommended SEMRush, but since Ahrefs have really upped their game on keyword research (they provided the data on BestProducts above) there's no other tool you need.
For Engadget, we can then see what they were really ranking for in 2016, with data on more than 12,000 keyphrases in the US alone.
I've highlighted a few that stood out to me from the first page of results but there really are thousands of terms to go through for just this one website alone.
Source #5: Your Own Experiences & Imagination
The best source for niches to target is without a doubt…you!
If there is some angle or industry that instantly came to mind when you thought about search terms for 2017 then start looking into it more with the keyword sources mentioned above.
Also head over to Google and check the 2016 search results to see if anyone else capitalised on them.
One tip, to see how popular certain topics were in 2016, is to find blog posts trying to rank for 2016 related keywords and seeing if they have a lot of shares and comments.
Using your own imagination can be both the easiest and the most difficult source to work with.
On one hand you will likely have hobbies and interests I didn't mention here which will give you ideas other people reading this won't have, but on the other – because I didn't talk about them here – you may doubt the potential that particular industry has.
There's no fool proof formula to guarantee your success with this.
My best advice is to target a lot of terms and most importantly, dive right in with both feet. With a domain name at $9 and hosting at a couple dollars per month, there really isn't much to lose besides time, but it's a learning experience anyway.
If you're looking to dive in and take action with this, I do have four strategies to help.
This is half the story…
For every success story we feature, we highlight gaps in the market which reveal additional opportunities to be successful. Many are possible by simply changing the industry (or location) to focus on while others look at how to profit from other traffic sources or monetisation options.
If you want to know exactly what types of sites I would build to dominate this '2017 angle' and how to analyse the people who are already ranking in Google, then carry on reading.
this is what we're known for
Gaps in the Affiliate SEO Space
Below this box is the text we're famous for, but out of respect for you, we do have a disclaimer in place.
We spend dozens of hours preparing these reports and coming up with opportunities you can capitalise on, but we also don't want to put your life-savings into an idea just because we wrote about it.
For that reason, we have an $8.88 request: Please don't spend more than that testing out an idea (it's the cost of a .com on Namecheap) to see if it has legs and makes sense for your business.
We've made many successful predictions and even ran our own case study, but we've also invested time and money into ideas that didn't pay off. We're not directly making money from this report, but still want to be respectful of your own finances.
Strategy: Ranking in Google for '2017'
I believe there are four ways to truly capitalise on the upcoming opportunity I've highlighted in this post in regards to SEO. Looking at the top trends for 2016 may give you ideas for great blog posts that Facebook users will love or opportunities for PPC campaigns, but I'm primarily focused on organic (free) Google search traffic here.
The four avenues are:
Adding content to an established website
Creating a minisite based on a topic
Creating an authority site with focused sub-categories
A bonus fourth angle
I'll cover each in a little more detail now so you can see which route is more likely to suit you.
Adding content to an established website
If you already have an established website, there may be opportunities to 'piggyback' off your existing authority and rank pages with '2017' in the headline more easily.
To give an example, let's assume I have a very popular tech blog that covers all of the latest gadgets from companies like LG, Canon and Samsung.
Let's also assume I focus on writing about the news rather than creating videos for YouTube like others in my niche, and often try to cover obscure items which may get more social media love than the newest laptop coming out of DELL.
One way I can see myself using this idea is to focus on the 'best' tech items of 2017. So, as mentioned earlier, things like:
The best webcams for 2017
The best laptop for 2017
The best printer for 2017
The best USB microphone for 2017
And on the list goes.
If you have an established site already or even just a mini-niche site which you could use this method on, set-up quality, dedicated pages for each query you're looking to rank for.
Of course, they should be relevant to the theme of the website so don't go and try to rank for everything. And of course make sure there are options to make money with any potential sales you send, such as being an Amazon affiliate or an affiliate for a specific manufacturer.
Creating a minisite based on a topic
If you don't have a website already (or at least not one that you can piggyback off) then you should consider creating what I call a 'minisite' based on certain search terms.
For instance, a website about the Best Anti-Virus Software 2017 may be able to make you a lot of money with software installer bundles or affiliate links for premium software. All I would put on the site would be a few genuine reviews of the latest anti-virus software and try to get a domain as close to the keyphrase as possible.
I know exact-match domains don't have nearly the amount of weight they used to have but they certainly haven't been wiped from search results.
Another example could be building a minisite around the best [category] books of 2017. So trying to rank for "best sci-fi books 2017" or "best children's books 2017" and so on.
You could track them on the likes of the NYT bestsellers list, 800 CEO-READ, their number of Amazon reviews and possibly even incorporate social media mentions to see which are being talked about the most.
Or – we're going into avenue three a little early here – you could build one authority site then have different categories which rank the best books on personal development, meditation, becoming an early riser, leadership, autobiographies and every other category of book out there.
The key with a minisite is to make sure the theme of the website stays on point. You don't want to be covering both anti-virus software and the best sci-fi books.
Pick one topic and stick with it.
Of course, there's no reason why you can't build multiple sites.
Creating an authority site with sub-categories
For me, this whole 'method' is something that should be a side-focus of people who are already successful online, but a potentially huge focus for those who are just starting out.
If you're really looking to get stuck into a big project, there's no reason it can't be using this strategy.
You could set-up a software review site and every sub-category could be a different type of software you try to rank for 'best [category] software 2017' related terms.
You could set-up a tech review site and every sub-category could be a different type of gadget or hardware you're trying to rank for with 2017-related search terms.
You could set-up a gifts guide website and every sub-category could be focused on things like 'best men's gifts 2017' or 'best kids toys 2017' and so on.
Then you could repeat the same thing next year with the same site, building on the authority you've created in the year previous.
I don't want to go into too many industries and give away someone else's ideas but you're hopefully starting to get an idea of the potential here.
Success here will go to those who are willing to do the research with the sources I suggested and find some great, hot topics of their own.
Then you just need to follow the avenue which suits you best and kill it.
A bonus fourth angle
As I was wrapping up this Gaps report and running it through Word to check for spelling errors before hitting Publish, I had one more idea. It's almost enough to be a niche idea in itself. As a personal experiment, I had initially decided to put the angle behind a social locker, so you had to like or share this page to view it.
I'll be a little fairer though and say if you're not already considering going all-in on this project, don't bother reviewing the next couple of paragraphs. They require a bit more work.
You agreed you're willing to put the work in, so here's the idea.
When I was writing about creating a site that ranks the best books across different categories, I had another idea of how to rank them which could be very interesting. What if books were not only ranked based on your opinion or sales numbers, but on the number of social media mentions they receive, and sentiment?
Bear with me here.
The reason I'm giving you the idea to potentially do more than just rank things based on your opinion is because search traffic isn't always going to come just because you created something.
If you create something cool on the other hand, which interests a certain audience, then you can likely pick up social media mentions and more importantly, backlinks, because you created something different.
Sentiment analysis basically takes text as an input and then decides whether it is positive, neutral or negative. While sentiment analysis does have its fair share of criticism, it's certainly getting better.
I personally would absolutely love to see rankings of the best business books based on how many people are talking about them on Twitter and the sentiment towards that book.
I would also love to see the rankings of USB Microphones based on their reviews on blogs around the web and the sentiment I can get from those reviews.
Now you're probably not a programmer who could put this together yourself – I personally don't have the skills to do this – but I have had a number of tools built based on Twitter and can't see this costing more than $200.
First of all, there's a huge list sentiment analysis API's over here that any half-decent programmer could use. All you would then have to do is scrape results from Twitter or use their API. I don't see a need for your rankings to constantly be updated live, you could run your script once per month or so and then update the rankings.
I could really see this being hugely interesting across so many fields. Make the website design very clean and you're on to a winner.
As a little bit of fun, here's the kind of site my brain conjured up so you can see what I'm talking about.
The levels or red, amber and green indicate the levels of negative, neutral and positive sentiment the item has received around the web. The chart representing how many people are talking about that item over the past year or however long I have my tracking set-up for.
I could see this working in so many industries. Who knows, maybe it's the basis for another multi-million dollar startup?[/sociallocker]
Next level: Analysing search results
This is for more advanced (read: experienced) readers so if you have never built a website before or don't know much about analysing search results, don't worry if you don't totally understand what I'm about to say.
One way to see what it takes to rank in Google is to analyse those who ranked for the hot terms of 2016.
Since 'routers' were mentioned twice in the original article – and both 10Beasts and BestProducts rank for this term – we can look at the search results for that specific query.
You may see something slightly different to me based on location and personalisation, but here's what I see for "best wireless router 2016".
It's interesting to see that three of the results have already changed their targeting for 2017.
Go to Google and search for the 2016 equivalent of the 2017 term you're looking to rank for and check things like:
The word count of the article ranking
The links to the page of the article ranking
The links to the domain ranking
How many social shares the page received (where applicable)
Some rankings will be easy to figure out "why" they're ranking – such as CNET which is a huge brand – but others will be niche sites where you can really delve into their backlinking strategy using something like Ahrefs.
If you're confused with any of this don't worry. Everything is new to everyone at one point in time. That's what I'm here for (in the comments below).
Don't make this complicated
Luqman made more than $80,000 in December and he still has spelling and grammatical errors all over his site. Not to take anything away from him, but he hasn't added many pages either (he's now sitting at 23).
It goes to show that the success here is partly about picking the right niches to target but mostly about getting links to your site so Google will notice it and rank your pages higher. I have a free guide on link building here.
I think this is an incredible opportunity for people to take action with since it doesn't require much upfront investment (neither money nor time) and the potential payoffs are absolutely huge.
We're not in 'shopping season' right now but Easter sales and Black Friday will come back around quickly enough so take action now so your site is in a position to benefit from those huge boosts in product-related searches.
···
Want to read more articles like this? We share them via our newsletter. New articles are shared on our email list 24 hours in advance of social media, so you can be the first, to be the first.
You can also follow us on Twitter and Facebook.
P.S. Clicking the heart button below to lets us know what types of success stories and opportunities you would like to see more of. Thank you for reading!
We're a small bootstrapped team, trying to share some of the best SEO insights and niche opportunities on the internet. Clicking the heart tells us what you enjoy reading. Social sharing is appreciated (and always noticed). – Glen Allsopp